Posts for tag: oral surgery
By Gustafson Dental
December 29, 2014
Although periodontal (gum) disease is the most common cause of bone loss in the mouth, women at or past menopause face another condition that could cause complications with their oral bone health — osteoporosis.
While normal bone goes through a balanced cycle of resorption (the dissolving of bone tissue) and re-growth, osteoporosis, a hormone-induced disease, tips the scale toward resorption. This reduces bone density, which weakens the bone and makes them more susceptible to fracture.
Some studies have shown a link between osteoporosis and existing gum disease; however, the greater concern at present from an oral health standpoint regards the side effects of a certain class of drugs called bisphosphonates used in the treatment of osteoporosis. Bisphosphonates slow excessive bone resorption, which helps restore normal balance to the bone growth cycle.
Some long-term users of bisphosphonates, however, may develop a complication in their jaw bone known as osteonecrosis in which isolated areas of the bone lose vitality and die. This can complicate certain types of oral surgery, particularly to install dental implants (which rely on stable bone for a successful outcome). While research is still ongoing, it does appear individuals at the highest risk of osteonecrosis are those with underlying cancers who receive high-dose intravenous bisphosphonate treatment every month for an extended period of time.
It's important then that you let us know before any dental procedure if you've been diagnosed with osteoporosis and what treatment you're receiving for it. If you've been taking a bisphosphonate for an extended period of time, we may recommend that you stop that treatment for three months (if possible) before undergoing oral surgery. While your risk of complications from osteonecrosis is relatively small, adding this extra precaution will further reduce that risk and help ensure a successful outcome for your scheduled dental procedure.
If you would like more information on osteoporosis and oral health, please contact us or schedule an appointment for a consultation. You can also learn more about this topic by reading the Dear Doctor magazine articles "Osteoporosis & Dental Implants" and "Good Oral Health Leads to Better Health Overall."
By Gustafson Dental
December 12, 2013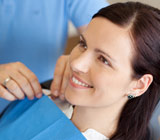 During most of your life, your dental healthcare will be mainly provided by your general dentist. Sometimes, though, certain situations and conditions call for the skills of a dental specialist. One such specialist is an oral surgeon.
An oral surgeon is a dentist who has undertaken further training and residencies in the practice of oral surgical procedures and treatments. They are especially distinguished by surgical procedures that may require advanced forms of anesthesia.
The field of oral surgery touches on a wide array of conditions. They are adept at tooth extractions, especially difficult cases like impacted teeth, and surgical procedures that correct issues involving the underlying bone of the jaw. They perform procedures as part of treatment for diseases of the jaws or facial region (including biopsies, and the removal and treatment of oral cancers), reconstructive surgeries of the mouth and jaw following disease or injury, and orthognathic surgeries that correct malocclusions (bad bites) caused by the size of the jaw and its placement with the skull.
Oral surgeons also provide treatments in the area of pain management like temporo-mandibular disorder (TMD), a group of conditions involving the joint that connects the lower jaw with the skull. Because of their background training in oropharyngeal (pertaining to the back of the mouth and the throat) physiology, many oral surgeons have received further training in the diagnosis and treatment of obstructive sleep apnea (OSA). They also play an important role in cosmetic dentistry, as with the surgical placement of dental implants.
All in all, these professionals are an important part of your dental healthcare team. Along with your general dentist and other oral specialists, they're committed to helping you gain the highest degree of dental health possible, as well as a vibrant, healthy smile.
If you would like more information on the role of oral surgeons, please contact us or schedule an appointment for a consultation. You can also learn more about this topic by reading the Dear Doctor magazine article "Why Consult an Oral Surgeon?"