Posts for: March, 2015
By Gustafson Dental
March 16, 2015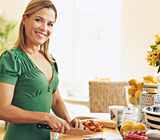 Junk food and between-meal sweets are a habit for many of us, even though we know it is bad for our bodies and our teeth. As adults, we are responsible for our own choices. As parents, we are also responsible for our children's choices, and for teaching them to choose wisely.
Celebrity Chef Cat Cora offers the following six suggestions for leading children to a healthy lifestyle. Cora is a star of Iron Chef America and author of Cat Cora's Classics with a Twist: Fresh Takes on Favorite Dishes, in which she reveals healthier versions of classic recipes. In her remakes she shows how to cook with a lot of flavor while reducing fat and sugar. Cora has four young sons, so her methods are not just theories — they have been practiced in real life.
1. Remember who's the boss.
"My kids have never had fast food," Cora said in a recent interview with Dear Doctor magazine. "The parents have a choice to do that or not," she said. "The kids are not going to the grocery store to shop; the kids are not driving themselves through fast food chains."
2. Make your rules clear and stick to them.
"Right now my 7-year-old tries to be picky, but it's really about us being consistent as parents," Cat said. For example, in her household pizza is served only at the weekly pizza and movie night. The kids get a healthier version of what they want, so they don't feel deprived. The evening includes air-popped popcorn without butter — and no soda, which is bad for teeth because of its sugar and other chemical ingredients.
3. Offer your children a variety of foods and tastes.
Cora made sure her children tried different foods and spices from infancy, so they are open to trying new things. It's easier to get all the nutrition you need if you eat a wide variety of foods.
4. Learn to make tasty substitutions for sugar.
When her children were babies, Cora stopped relying on bottles and sippy cups as soon as possible, reducing her children's likelihood of developing tooth decay due to sugary residues remaining in their mouths. Now that they are older, she uses tasty substitutes for sugar such as fruit purees and the natural sugar substitute Stevia.
5. Include the children in meal planning.
Kids are more likely to eat a meal they are involved in planning and cooking. For example, ask them which vegetable they would like to have (not whether they want to have a vegetable).
6. Model healthy behavior for your kids.
Parents are the best role models. This is true not only for food choices, but also for exercise and maintaining a healthy lifestyle.
Contact us today to schedule an appointment to discuss your questions about oral health. You can also learn more by reading the Dear Doctor magazine article "Cat Cora."
By Gustafson Dental
March 06, 2015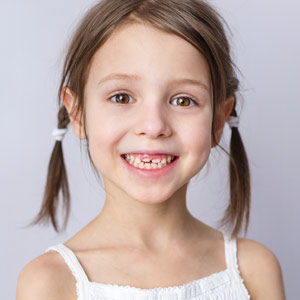 For most people, raising kids is an expensive proposition. (A recent estimate by the U.S. Department of Agriculture puts the average tab at almost a quarter of a million dollars before they turn 18.) But if you've been keeping up with parenting news lately, you may have come across an even more jaw-dropping fact: According to a survey by the Sunstar group, a maker of oral hygiene products, when the tooth fairy makes a pickup in New York City, she (or her parental surrogate) leaves an average of $13.25 per tooth!
That compares to $9.69 per tooth in Los Angeles, $5.85 in Chicago and $5.02 in Boston — and it's a far higher rate than most other polls have shown. But it brings up a good question: What's a baby tooth really worth? Ask a dentist, and you may get an answer that surprises you: A lot more than that!
A child's primary (baby) teeth usually begin coming in around the age of 6 to 9 months, and start making their exits about the time a child reaches six years; by the age of 10 – 13, they're usually all gone. But even though they will not last forever, baby teeth are far from disposable — and they deserve the same conscientious care as adult teeth. Here's why:
Primary teeth play the same important roles in kids' mouths as permanent teeth do in the mouths of adults: they allow kids to bite and chew effectively, speak normally and smile brightly. Their proper functioning allows children to get good nutrition and develop positive social interactions as they grow toward adolescence — and those are things it's difficult to put a price tag on.
But that's not all baby teeth are good for. Each one of those little pearly-whites serves as a guide for the permanent tooth that will succeed it: It holds a space open in the jaw and doesn't let go until the grown-up tooth is ready to erupt (emerge) from beneath the gums. If primary teeth are lost too soon, due to disease, decay or accidents, bite problems (malocclusions) can develop.
A malocclusion ("mal" – bad; "occlusion" – bite) can result when permanent teeth don't erupt in their proper locations. "Crowding" is a common type of malocclusion that can occur when baby teeth have been lost prematurely. The new, permanent teeth may come in too close together because neighboring teeth have shifted into the gap left by the prematurely lost tooth, creating an obstruction for the incoming teeth. In other cases, the permanent teeth may emerge in rotated or misplaced positions.
Bite problems make teeth harder to clean and thus more prone to disease; they may also cause embarrassment and social difficulties. The good news is that it's generally possible to fix malocclusion: orthodontists do it every day. The bad news: It will almost certainly cost more than $13.25 per tooth. Alternatively, baby teeth in danger of being lost too soon can often be saved via root canal treatment or other procedures.
We're not advocating giving big money to toddlers — but we do want to make a point: The tooth fairy's payout: a few dollars. A lifetime of good checkups and bright smiles: incalculable.
If you have questions or concerns about baby teeth, please call our office to schedule a consultation.