Posts for: March, 2014
By Gustafson Dental
March 18, 2014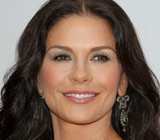 She received an academy award for best supporting actress in Chicago (2002); she regularly stars in big Hollywood films like Oceans Twelve and Side Effects. And she's been named one of People magazine's "most beautiful people" of the year… a total of five times so far. According to big-screen heartthrob Antonio Banderas, "She has one of the most beautiful close-ups in cinematography today."
So would it surprise you to learn that Catherine Zeta-Jones had a little help from cosmetic dentistry along the way? In her childhood, the actress said, "I was teased because I had a really flat-looking nose, and before I got braces, my teeth used to stick out a bit." According to press reports, she has also had various dental treatments to make her teeth look whiter and more even.
Because she's been in the spotlight since a young age, Zeta-Jones had her cosmetic dental treatments performed over a number of years. But if you're unhappy with your smile right now, there's no need to wait: Getting a complete "smile makeover" starts with a consultation at our office. How does it work?
We begin with a thorough dental exam to check for any underlying issues, and some basic questions, including: What do you (and don't you) like about your smile? Are your teeth as even and as white as you'd like them to be? Is your smile too "gummy", or do the teeth seem too large or small in proportion to your facial features? Do gaps, chips or cracked teeth detract from your appearance?
Next, working together with you, we can develop a plan to correct any perceived problems in your smile. We've already mentioned two of the most common ways to enhance a smile that's less than perfect: orthodontics for straightening crooked teeth, and whitening treatments for a more brilliant smile. If your teeth are otherwise healthy, both treatments can be performed at any time — in fact, more and more of today's orthodontic patients are adults.
Other treatments that are often used include cosmetic bonding to repair small to moderate chips or cracks in teeth; crowns (caps) to restore teeth with more extensive structural damage; and veneers to remedy a number of defects — including discoloration, small irregularities in tooth spacing, and even teeth that appear too long or too short. Plus, we have even more procedures designed to remedy specific dental issues.
Will having a better smile get you on the "most beautiful people" list? We can't say for sure. But we think you'll feel better about yourself… and people will notice.
If you would like more information on smile makeovers, please contact us or schedule an appointment for a consultation. You can learn more in the Dear Doctor articles "The Impact of a Smile Makeover" and "Great Expectations — Perceptions in Smile Design."
By Gustafson Dental
March 03, 2014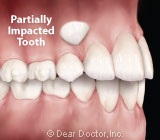 There are only a few teeth that are known by nicknames. The big, late-blooming third molars ("wisdom teeth") are one set; another set is the sharply-pointed canines, also called the "eyeteeth". These two sets of teeth have something else in common: They can both suffer from the failure to develop in the proper place. Impacted wisdom teeth are a well known problem; impacted canines, however, are an issue that's seen less frequently — but can often be effectively treated without extraction (removal).
What does the term "impacted" mean? In dental terminology, it indicates a tooth that is growing in a position where it can't erupt (grow in to the bite) properly. This sometimes happens in cases where the bite is "crowded" — that is, where there isn't enough space in the jaw for all of the teeth to develop properly. An impacted tooth remains "buried" to some extent in the tissues of the gums and jaw. It may eventually cause various problems with the roots of neighboring teeth, or even form a cyst (fluid-filled sac). That's why treatment of impacted teeth is so important.
Impacted third molars (wisdom teeth) are generally removed (extracted), and are rarely missed. Canines, however, are located near the front of the mouth, forming an important component of an aesthetically pleasing smile. Therefore, whenever possible, it's preferable to bring these teeth into good alignment with the rest of the smile rather than remove them. How is this done?
The process begins with a series of radiographic images (x-rays or CT scans) that show the exact positions of the affected teeth. Next, a minor surgical procedure, performed under local anesthesia, is used to expose the crowns (surfaces) of the impacted teeth. Then, a bracket is bonded to the surface of the tooth, which can be attached to orthodontic appliances. These appliances will, in time, move the tooth into a better position.
Impacted canines can be a serious problem — but the good news is that, with the proper treatment, it's often possible to bring them into alignment with the rest of your smile. If you would like more information about treating impacted canine teeth, call our office for a consultation. You can learn more in the Dear Doctor magazine article "Exposing Impacted Canines."