Posts for: November, 2013
By Gustafson Dental
November 27, 2013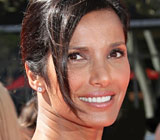 Before she began hosting the long-running TV competition Top Chef, Padma Lakshmi was a well-known model and successful cookbook author. (Appropriately, she is said to have been "discovered" by a modeling agent while sitting in a café in Madrid.) Yet the Indian-born beauty's striking look — at once exotic and familiar — doesn't come from any cookie-cutter mold.
So when Lakshmi had cosmetic work done on her teeth, early in her career, her dentist didn't use a cookie-cutter approach either: Instead, her smile was carefully designed, using small amounts of bonding material to brighten her teeth and to bring their shape and spacing into harmony with her facial features.
Dentistry by Design
What exactly is smile design — and what could it do for you? Essentially, it's the process of evaluating your smile in concert with the appearance of your entire face, and visualizing the changes — some dramatic and some subtle — that will make it really shine. Some aspects we consider include the face's shape, the proportion or "balance" of facial features, the complexion, eye and lip color and form, and the overall dimensions of the smile.
Based on dental aesthetics and clinical experience, we will probably have a number of suggestions to make on how you can improve your smile. Your input will also be very important; while some individuals prefer perfectly even teeth and a sparkling "Hollywood white" smile, others are looking for a result that's more in keeping with a "natural" look: slight irregularities in tooth shape, spacing, and even color.
There's no right or wrong answer here: Having a "perfect" smile means what's perfect for you, so it's very important for dentists and patients to communicate openly during the smile design process. But sometimes, words alone just aren't enough to convey the subtle dimensions of beauty.
The Trial Smile
Fortunately, it's now possible to preview your "perfect" smile using a number of different techniques. Advances in computer imaging make this the first step in previewing your new smile — you can see the changes before a single tooth is touched! Still, many people find that having a more concrete picture is helpful. The next step is to make a 3-D mock-up the proposed dental work on an actual model of your mouth. That way, you can see a physical representation of the final results — and even turn it around and hold it in your hands.
There's still one more way to really experience the difference cosmetic treatments can make without committing to a permanent change: the provisional restoration. Here, tooth-colored bonding material and other techniques are used to actually create the new smile — temporarily. This gives you time to "live with it," and see if the proposed changes work for you. If everything goes well with the provisional work, the permanent restoration is guaranteed to please.
So if you want holiday treats, get out the cookie cutter — but if you're looking for a smile that's uniquely yours, and one that enhances your own individual appearance… call our office and ask about a smile design consultation. You can learn more in the Dear Doctor magazine articles "Great Expectations — Perceptions in Smile Design" and "Beautiful Smiles by Design."
By Gustafson Dental
November 12, 2013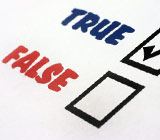 Periodontal disease is the leading cause of tooth loss in adults. A recent survey by the Centers for Disease Control and Prevention showed that nearly half of Americans older than 30 had some signs of periodontal disease. That's more than 64 million people.
How much do you know about this potentially serious disease? Take our quiz and find out.
True or False: Gum Disease is caused by bacteria in the mouth
TRUE. Of the hundreds of types of bacteria that occur naturally in the mouth, only a small percentage are harmful. But when oral hygiene (brushing and flossing) is lacking, these can build up in a dental plaque, or biofilm. This often causes inflammation of the gums, the first step in the progression of gum disease.
True or False: Gum disease is more prevalent among younger people
FALSE. Gum disease is most often a chronic disease, meaning that it progresses over time. Statistics show that as we age, our chances of developing gum disease increase, as does the disease's severity. In fact, according to the study mentioned above, about 70% of adults 65 and over have mild, moderate or severe periodontitis, or gum disease.
True or False: Bleeding of the gums shows that you're brushing too hard
FALSE. You might be brushing too hard — but any bleeding of the gum tissue is abnormal. Gum sensitivity, redness and bleeding are typically the early warning signs of gum disease. Another is bad breath, which may be caused by the same harmful bacteria. If you notice these symptoms, it's time for a checkup.
True or False: Smokers are more likely to develop gum disease
TRUE. Not only are smokers more likely to develop gum disease, but in its later stages they typically show more rapid bone loss. Smoking also prevents the warning signs of gum disease - bleeding and swelling of the gum tissues - from becoming apparent. Other risk factors for developing the disease include diabetes and pregnancy (due to hormonal changes). Genetics is also thought to play a role in who gets the disease — so if you have a family history of gum disease, you should be extra vigilant.
True or False: The effects of gum disease are limited to the mouth
FALSE. Numerous studies suggest that there is a relationship between periodontal health and overall health. Severe gum disease, a chronic inflammatory disease, is thought to increase the risk of cardiovascular diseases like heart attack and stroke. It may also lead to complications in pregnancy, and problems of blood-sugar control in diabetics.
So if you have any risk factors for gum disease, or if you notice possible symptoms, don't ignore it: let us have a look. We can quickly evaluate your condition and recommend the appropriate treatments if necessary. With proper management, and your help in prevention, we can control gum disease.
If you have concerns about gum disease, please contact us or schedule an appointment for a consultation. You can learn more in the Dear Doctor magazine articles "Understanding Gum (Periodontal) Disease" and "Warning Signs of Periodontal (Gum) Disease."